Iron Wire Mesh Container Metal Cage
Model NO.: A1-A3; B1-B3; C1-C3

Feet Height: 100mm or 120mm as Demands

Scale: Heavy Duty

Wire diameter: 4-8mm

Welding: Full Welding

Finish: Electro Zinc Plated, Galvanized

OEM: Yes

Application: Bulk Materials Handling, Transport and Storage, E

Capacity: 1t-3t

Wheel: with or Without

Wire Diamete: 4~10 mm

Delivery Terms: with 10-15 Working Days

Payment: T/T, LC .Western Union Paypal

Design: Wire Mesh Cage

Function: Foldable, Collapsible, Stackable

Trademark: GXL

Transport Package: as Demands

Specification: 800*600*650 1000*800*850 1200*1000*900

Origin: China

HS Code: 730269090
Iron Wire Mesh Container Metal Cage

Our company can offer various types storage cage,Galvanized wire mesh container recommended for applications requiring maximum ruggedness and durability in a wide range of manufacturing and warehousing applications. The unique fold-down feature collapses this container to approximately 10 inches when not in use.
Tough,All-welded wire contaiers provide quick content clearly visible,even when stacked 3 and 4 containers high,making it easy to see what stored inside,this promotes better material flow and more efficient inventory control.
Open mesh welded wire construction allows dirt,dust,debris to pass through keeping the contents cleaner.
Half drop gate makes it easy to load or unload parts.
Foldable desigh,allowing the sides to collapse,fold flat for space-saving when not in use or return shipment.
High strength design permits secure,compact storage,the sturdy wire mesh containers can hold up to max 2000kg with three more fully loaded wire containers stacked on top.
These containers are made with rigid wire after welding,electro-galvanized finished providing a lifetime or rust resistance.
1. Product Instructions1.Material: Low carbon steel2.Surface treatment:Â electro galvanized, hot dipped galvanized3.Loading capacity:1000-3000kg4. Available in 5Â to 14mm galvanized welded mesh5. Legs are wrapped and welded around the based-no edges to scratch floors or people6. Double wire reinforcements at load-bearing surface and top edges7. Base inside walls protect content from damage8. Open wire mesh design allows for full visibility for inventory checks, ventilation and cleanliness8.Adapts patented technology, with new pattern and unique design, Can also design and produce commercial storage equipment of various specifications according to customer's requirements9. Offers overall arrangement for all kinds of markets and warehouses .

 
Regular models of wire mesh container
Item No.
Specification
Wire diameter
Mesh gauge
Load capacity
Self-weight
Feet height
External size (L*W*H)(mm)
Internal size (L*W*H)(mm)
(mm)
(mm)
(kg)
(kg)±2%
(mm)
  A1-800
800*600*640
750*550*500
5.8
50*50
800
29
100
  A1-700
5.6
50*50
700
27.8
  A1-600
5.3
50*50
600
23
  A1-400
4.8
50*50
400
20.6
  A2-600
5.8
50*100
600
25
  A3-1000
6.3
50*50
1000
32
  B1-1200
1000*800*840
950*750*700
5.8
50*50
1200
44.8
100
  B1-1000
5.6
50*50
1000
42.8
  B1-800
5.3
50*50
800
35.2
  B1-600
4.8
50*50
600
30.8
  B2-1000
5.8
50*100
1000
39
  B3-1500
6.3
50*50
1500
51
  C1-1500
1200*1000*890
1150*950*750
5.8
50*50
1500
60.8
100
  C1-1300
5.6
50*50
1300
55.8
  C2-1000
5.8
50*100
1000
53.8
  C2-800
5.6
50*100
800
48.4
  C3-2000
6.3
50*50
2000
68
Remark: the size, wire diameter, mesh gauge can be customized as your design.
2. Product Details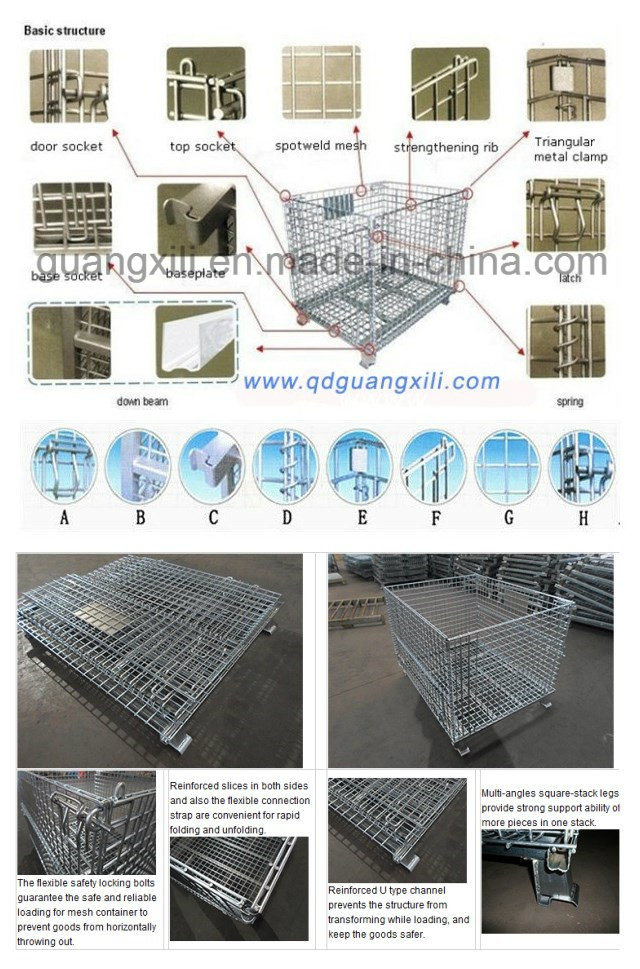 A, Â Bending-shaped handle latch, open and lock the door naturally.

B, Â U-shaped down beam, reinforce loading capacity.

C, Â Particular structure of baseplate, ensure the stability when stacked.

D,  Spring hinge connect the reticular wire mesh, foldable when not in use.

E, Â Triangular metal clamp on the top to ensure the intensity of the spring hinge.

F, Â Auxiliary strengthened rib structure, ensure the stability when unfold.

G, Â Multiple spot welding technique, ensure the solidity and durability.

H, Â Independent bolt and drop gate for easy to fetch products when stacked.

3. Folding Method



4. Advantages

1. Inventory levels are visible, making it easy to monitor product levels at a glance         
2. Convenient drop side gate design for access to products, even when containers are stacked         
3. Four way fork entry, easily moved by forklift, even when fully loaded         
4. Sturdy spiral hinges, welded, interlocking channel base, heavy-duty structure         
5. Collapsible, Stackable design, folds flat for easy carry, recycle and storage when not in use
6. Custom sizes and options are available 

5. Production Process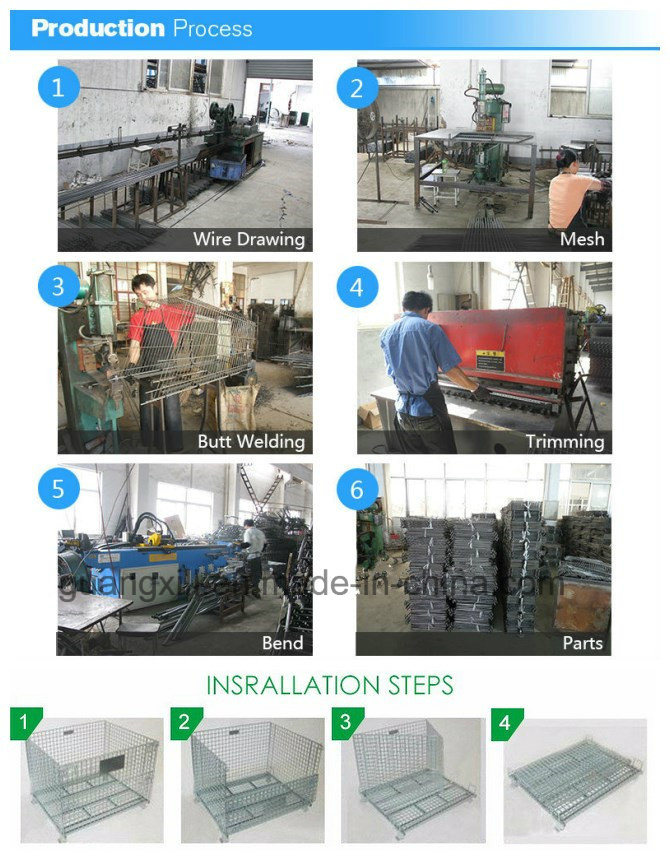 6. Applications
•Supermarket shelf, supermarket equipments (cashier desk,fruit and vegetable shelf, promotion cart, shopping cart, shopping basket, etc)
• Storage rack (angle slotted steel, heavy/medium/light duty storage rack), warehouse equipments
• Glass/wooden/titanium-alloy counter/cabinet, metal shelf, magazine rack
• Exhibition shelf, exhibition facilities, etc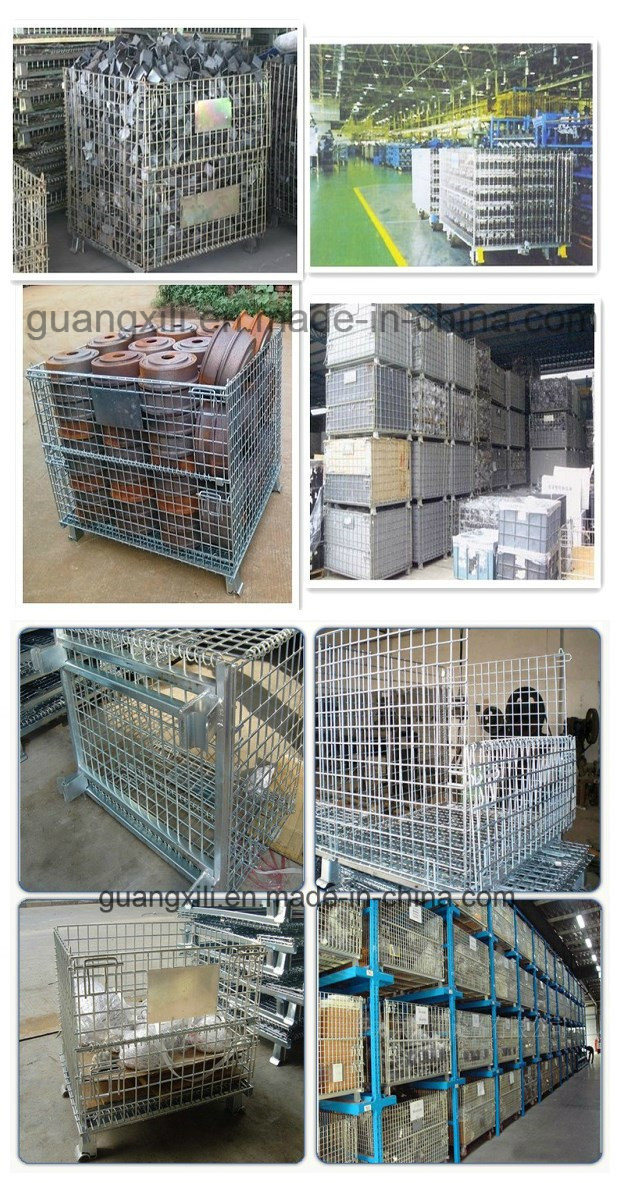 7. Package&Delivery
Plastic banding +Â Stretch film wrapped,palletized for easy loading and unloading with standard forklift truck or pallet jack
1.LCL: packed with plastic film then on the pallets  
2.FCL: Nude packing 
3.Other special package according to customers' requirements







FAQÂ 
1.Q:Can according to customer design and production of products?
A: Sure, we have very rich experience in customizing . there are professional engineers help design the most suitable product for you
2.Q:I don't have drawing or picture available for custom products, could you design it?
A:Yes,we can make the best suitable design for you, but do need to know the details-such as
3. Q:I would like to have my own design products and I am a small wholesaler, do you accept small order?
A:Yes,we can go with your custom design, no matter small or big qty, however, please understand the cost will be different.
4. Q: How do IÂ install ?
   A:We provide detailed install instruction for every type . If needed, we can also ask engineers to teach you for free.
5. Q: How does your company do regarding quality control?
A:We have own technology team, each batch of goods will be strictly controlled, and issue inspection reports. the company's internal will have quality regulation, to ensure that every batch of products qualified and best quality.
6. Q:How about the warranty period ?
A:Under normally usage, the warranty period is within 12 months.
7. Q:What's the MOQ of each model ?
A:1 unit is acceptable and price varies from different quantities.
8.Q:What is your average production lead time?
A:15-30 Working days against formal order and deposit.
9.Q :May IÂ know the status of my order?
A: Yes. We will send you information and photos at different production stage of your order. You will get the latest information in time.
10.Q :How can IÂ get your quick quotation for wire mesh container?
A:As usual, you should provide us the following information:
      A. External size or Internal size(L*W*H)
      B. Wire Diameter
      C. Mesh Spacing
      D. Loading Capacity
Qingdao GuangXiLi Industrial Products Co., Ltd
Sophia Xiao
Tel : +86-532-85196797
Fax : +86-532-85196798
Mobile:+86-15288963052
 

It is important that a basketball lift mechanism can be height adjustable,because this will ensure the Basketball stands lift system can be used by different ages of people,even for children.This can be achieved by using a good Basketball Stands Lift System Actuator.The Actuator For Electric Stand will make basketball mechanism has up and down vertical movement to let a user make shots at different positions.The Linear Actuator is connected to a motor housing.There are two different controller you can choose:controller with wire or remote controller.The Basketball Stands Lift Actuator is designed to be waterproof,which makes sure the Basketball Stands can be installed outdoor without worry.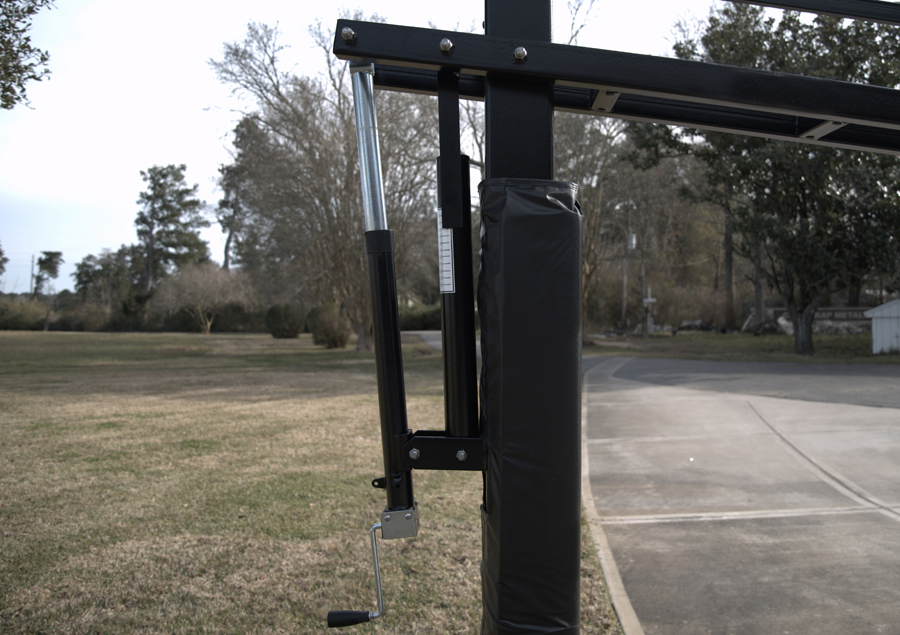 Basketball Stands Lift System Actuator

Basketball Stands Lift System Actuator,Basketball Stands Lift Actuator,Actuator For Electric Stand,Actuator For Basketball Stands

Guangdong G-motor Health Technology Co.,Ltd , http://www.gd-gmotor.com